New Apple TV 4K with better HDR and a new remote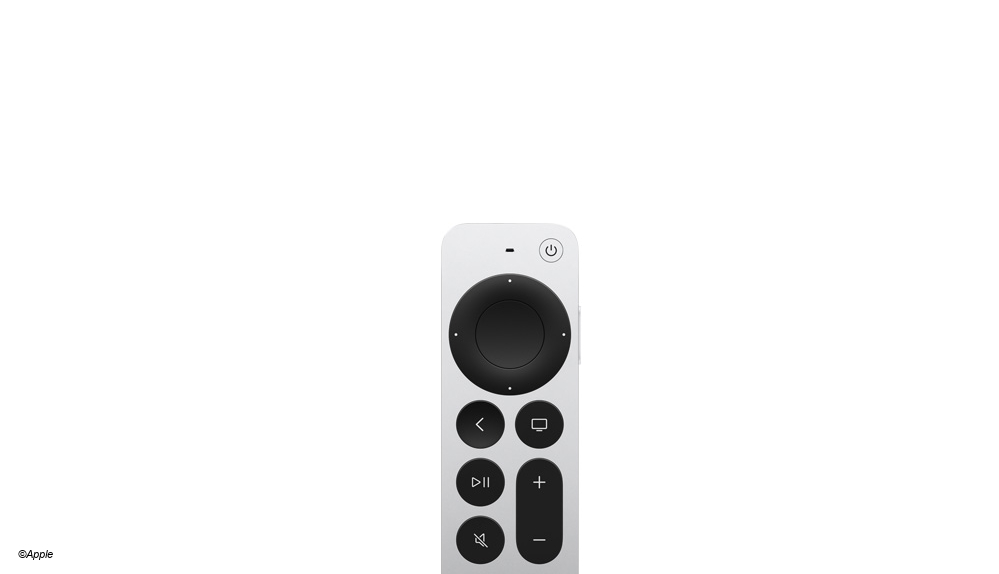 The all-new Siri Remote, innovative color balance technology, and HDR with high refresh rate should ensure the best entertainment in the home with the new Apple TV 4K.
Apple today announced the next generation of Apple TV 4K. This provides, for example, HDR with a high refresh rate and Dolby Vision. The heart of the new Apple TV 4K is the A12 Bionic chip, which enables a significant increase in graphics performance, video encoding and audio processing.
A12 Bionic chip improves the video experience
With A12 Bionic, Apple TV 4K now supports HDR (High Dynamic Range) and Dolby Vision videos with high refresh rate, which means fast motion content can be played more smoothly at 60 frames per second (fps). Apple TV also uses the iPhone's light sensor to compare color balance to industry specifications used by filmmakers around the world. The machine uses this data to automatically adjust the video output.
The redesigned Siri Remote
The all-new Siri Remote has an innovative ClickPad that provides 5-digit control for better accuracy. There is also a touch surface again for commands by swiping quickly. The outer ring of the click pad supports an intuitive circular gesture that enables jog control.
Siri now also works in Austria, Ireland, and New Zealand, with Apple TV. The new remote control also has a power button that can be used to turn the TV on and off and another button to mute it. With Siri, customers can also control smart home accessories, and check sports or weather scores.
It all works on Apple TV 4K under tvOS
Apple TV + and other popular video services.
With AirPods, up to your viewers can enjoy private listening without disturbing others.
Apple Music on Apple TV 4K provides multi-room audio and simultaneous lyrics for millions of songs.
Fitness + provides gym-like exercises for the comfort of your home. Fitness + is the first fitness service to be developed around the Apple Watch.
Apple Arcade provides unlimited access to a growing selection of over 100 premium games – without ads or in-app purchases. Players can pair supported game consoles to enjoy games like NBA 2K21 Arcade Edition, SongPop Party, and Star Trek: Legends on Apple TV 4K and follow the action on iPhone, iPad and Mac.
With AirPlay on Apple TV 4K, customers can easily stream videos, school projects, and other content from iPhone, iPad, or Mac directly to their TV.
Apple TV 4K can be used as a Home Control Center to control HomeKit accessories.
Apple One is the easiest way to get all Apple services in one subscription.
Pricing and availability
The new Apple TV 4K will be available starting at € 199 (including VAT) on apple.com, in the Apple Store app and in Apple Store. Apple TV 4K is also available through authorized retailers and select pay TV service providers.
• Available for pre-order beginning Friday, April 30th. Availability begins in the second half of May in more than 30 countries and regions, including Germany.
Apple TV HD will be available with the new Siri remote control for € 159 including VAT.
• The new Siri Remote will be available separately for € 65 including VAT and is compatible with the previous generation Apple TV 4K and Apple TV HD.
AppleCare + will be available for the first time, with three years of technical support and additional hardware service options. Including 2 accidental damage within 12 months.
• For a limited time, eligible iPhone, iPad, iPod touch, Apple TV or Mac purchasers can use Apple TV + for free for one year. Apple Arcade is free for three months. More details can be found under Apple.com/promo.
What: Apple
NB: Some of the links are affiliate links. When buying via this link, DIGITAL FERNSEHEN gets a small commission. This has no effect on the price.
"Coffee trailblazer. Social media ninja. Unapologetic web guru. Friendly music fan. Alcohol fanatic."