Gorgeous View – New CORSAIR XENEON 32QHD165 Gaming Monitor – Hartware
(extract from press release)
FREMONT, Kalifornien (USA), September 30, 2021 – CORSAIR (NASDAQ: CRSR), a leading global supplier of accessories for gamers, creators, computer system builders and enthusiasts, today announced the XENEON 32QHD165, a stunning new monitor built from the ground up for gamers and creators alike. Modern IPS LED with a resolution of 2560 x 1440 pixels.
With a refresh rate of up to 165Hz, AMD FreeSync Premium certification and NVIDIA G-SYNC compatibility, no frame is lost even in the latest games. XENEON 32QHD165 provides demanding users with an incredible combination of powerful features, smart functions and well-thought-out design. Seamless integration with CORSAIR iCUE and Elgato Stream Deck software ensures convenient and customizable control. XENEON 32QHD165 is designed to be at the heart of the modern gaming and streaming setup in a unique way.
The XENEON 32QHD165 32-inch monitor is surrounded by a particularly narrow bezel, so minimal spacing is possible in multi-monitor configurations. The IPS LED panel uses Quantum Dot technology that covers 100% of sRGB, 100% of Adobe RGB, and 98% of the DCI-P3 color space. This ensures top-notch color accuracy which is so important for creators with applications like Adobe Photoshop, After Effects, and DaVinci Resolve. In addition, HDR400 provides a wide range of brightness for very realistic scenes, regardless of whether they are too dark or too bright. With horizontal and vertical viewing angles of up to 178 degrees, the XENEON 32QHD165's picture looks good from every perspective.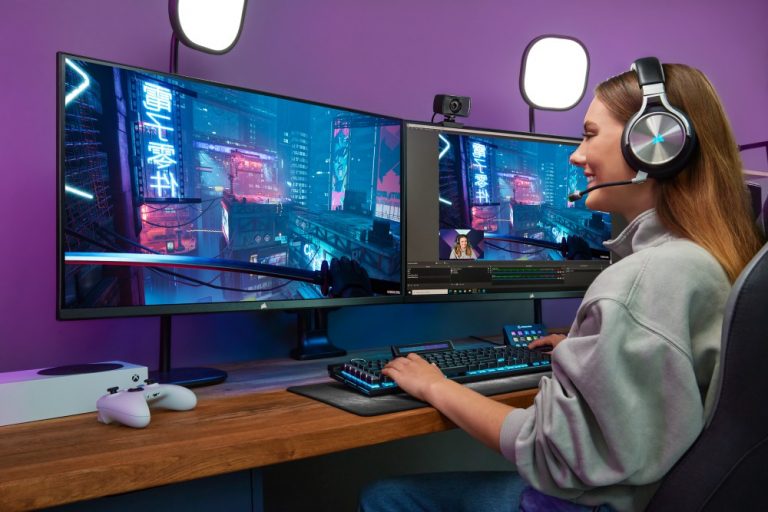 When gamers are playing fast-paced games at high settings, they need a screen that can keep up. For this reason, the XENEON 32QHD165 has a refresh rate of 165Hz, which is more than twice the refresh rate of a standard monitor. Combined with Adaptive Sync technology via AMD FreeSync Premium certification as well as NVIDIA G-SYNC compatibility, gamers experience a flicker-free picture and less tearing, which is also backed by a fast 1ms response time.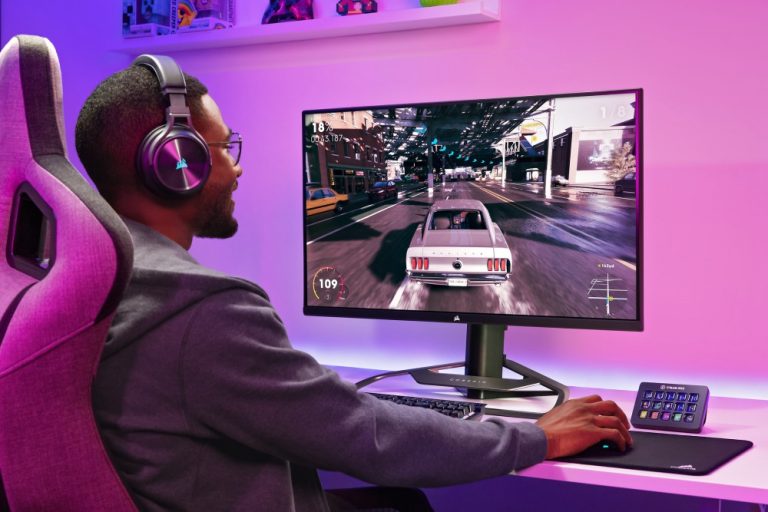 The uniquely designed XENEON 32QHD165 Die-Cast Aluminum Rack offers stream settings new possibilities. An innovative, integrated mounting point on the rack is equipped with a standard inch thread for compatibility with rig systems such as the Elgato Multi Mount*. Simplifies your setup by allowing you to easily and securely mount your camera, light, or microphone above the screen.
XENEON 32QHD165 integrates with CORSAIR iCUE and Elgato Stream Deck software to better integrate your monitor into the rest of your setup. All screen settings can be adjusted in iCUE, so you never have to reach behind the screen to use the physical controls. Via iCUE, you can switch between your individual settings, for example if you want to switch between games, watch a movie or work in Photoshop. You can do this with a button on the Elgato Stream Deck or with the CORSAIR iCUE NEXUS touch screen.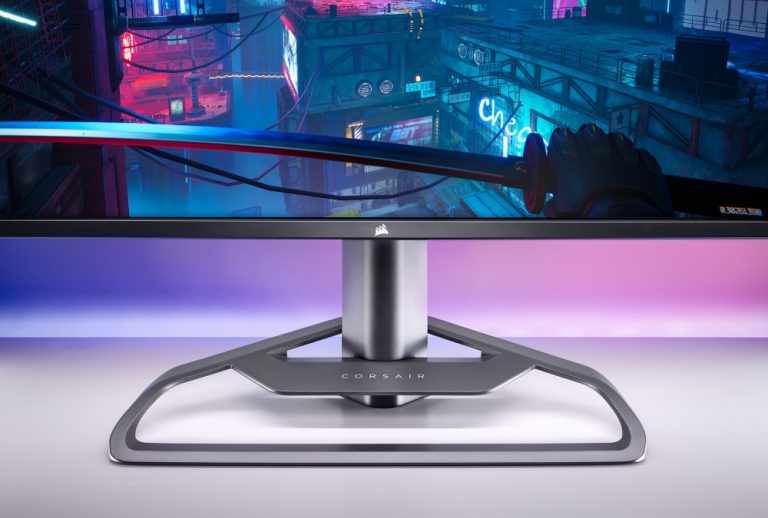 The numerous connectivity options and smart cable routing in the XENEON 32QHD165 make the monitor a convenient center on your desk. Connect plenty of gaming and streaming peripherals via two HDMI 2.0 and DisplayPort 1.4 as well as two USB 3.1 Type C and two USB 3.1 Type A ports. In the sturdy and elegant aluminum stand of the XENEON 32QHD165, a cable guide is integrated so you can organize and hide your cables, So that your battle station is always tidy and cool. The monitor can be tilted from -5° to 20° and its height adjusted by 100mm, so you can adjust its position exactly as you like. If you prefer to mount your monitor to the wall, you can securely and easily mount it to the wall or mounting arm with the 100 x 100mm VESA bracket.
CORSAIR is celebrating the launch of the XENEON 32QHD165 with a live broadcast (September 30 at 6:00 PM CEST) hosted by Trisha Hershberger. The live stream will feature star guest stars like Paul's Hardware, exciting giveaways including an Elgato stream setup complete with a XENEON 32QHD165 monitor, and much more! Watch the live broadcast or VoD at http://www.corsair.com/live.
The long-awaited CORSAIR gaming monitor is here, combining great graphics, perfect engineering and a versatile design to deliver a truly impressive vision.
* Requires CORSAIR XENEON and Elgato Flex Arm S or Flex Arm L Camera Mount Adapter (sold separately).
Availability, warranty and prices
The CORSAIR XENEON 32QHD165 Gaming Monitor is available immediately on the CORSAIR Web Store and from all authorized CORSAIR distributors and resellers worldwide. At launch, it will be available in North America, the United Kingdom, France, the Netherlands, Denmark, Norway, Sweden, Germany, Spain, Italy, Poland, Australia and New Zealand.
The CORSAIR XENEON 32QHD165 is backed by a three-year warranty including a "ZERO DEAD PIXEL" policy and CORSAIR's worldwide network of customer service and technical support.
For current pricing information for the CORSAIR XENEON 32QHD165, visit the CORSAIR website.
"Coffee trailblazer. Social media ninja. Unapologetic web guru. Friendly music fan. Alcohol fanatic."