WAPA provides annual production forecasts for the Southern Hemisphere 'Fruchtportal'
01 March 2021
The World Apple and Pear Association (WAPA) published its estimate for apple and pear production for the Southern Hemisphere in 2021. Predict what data From Argentina, Australia, Brazil, Chile, New Zealand and South Africa, you expect apple production to increase by 6% year-on-year in 2021, while pear production is expected to stabilize.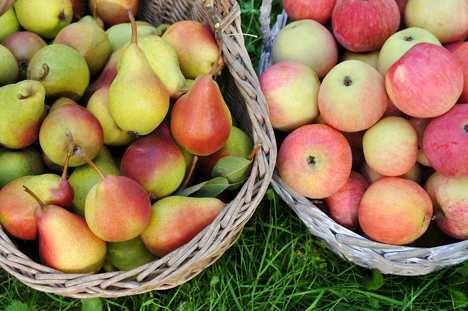 Image source: Shutterstock.com
The report was produced with the support of ASOEX (Chile), CAFI (Argentina), ABPM (Brazil), Hortgro (South Africa), APAL (Australia), New Zealand Apples and Pears and thus presents aggregated data from the six leading countries. From the southern hemisphere.
Commenting on the value of gathering insights from these major producers, WAPA Secretary General Philip Penard said: "Gathering this collective data has previously proven to be a valuable exercise for the global apple and pear industry and a reliable source of information as the season gradually changes from the North to the Southern Hemisphere."
An apple
The southern hemisphere's apple harvest forecasts an increase of 6% or 5,090,000 tons compared to last year (4,818,000 tons) with increases in Australia, Brazil and South Africa of 23%, 20% and 6%, respectively, and a decrease. In New Zealand by 5% and stable figures for Argentina and Chile. The total amount increases by 2% compared to average yields between 2018 and 2020.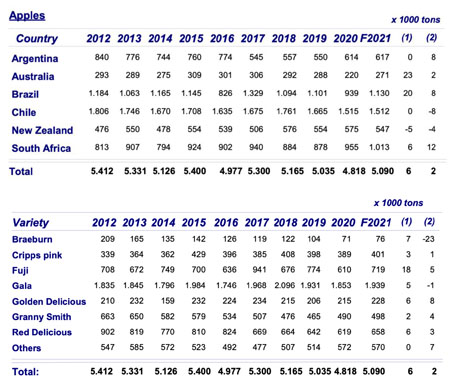 Grafik © WAPA
Chile remains the largest producer of apples in the southern hemisphere in 2021 with 1,512 million tons, and Brazil ranks second with 1,130 million tons, followed by South Africa (1013 million tons), Argentina (617 million tons), New Zealand (547 million tons) and Australia (271 million tons) metric tons.
Gala remains the main cultivar (39%), followed by Fuji (14%) and Red Delicious (13%). Exports are expected to stabilize at 1,691,562 tons, with steady figures for Chile (650,773 tons), a 4% increase for South Africa (476,000 tons) and a 7% decrease for New Zealand (372,000 tons).
pear
Regarding pears, farmers expect the yield to stabilize at 1,346,000 tons, an increase of 2% compared to the overall average for 2018-2020. Increases of 3%, 2%, and 1% in South Africa, Australia and Argentina aim to offset declines of 3% and 10% in Chile and New Zealand.
As in previous years, Packham's Triumph and Willliams BC / Bartlett are the top places at 36% and 28%, respectively. Reports indicate an expected increase in export numbers of 6% from 2020 to 708,690 tons, with Argentina forecasting an increase of 12% (373,996 tons), South Africa by 2% (214,361 tons) and Chile a decrease of 3% ( 108,315 tons).
What: WAPA
Publication date: 01.03
"Reader. Travel maven. Student. Passionate tv junkie. Internet ninja. Twitter advocate. Web nerd. Bacon buff."