France officially returns 26 looted treasures in Benin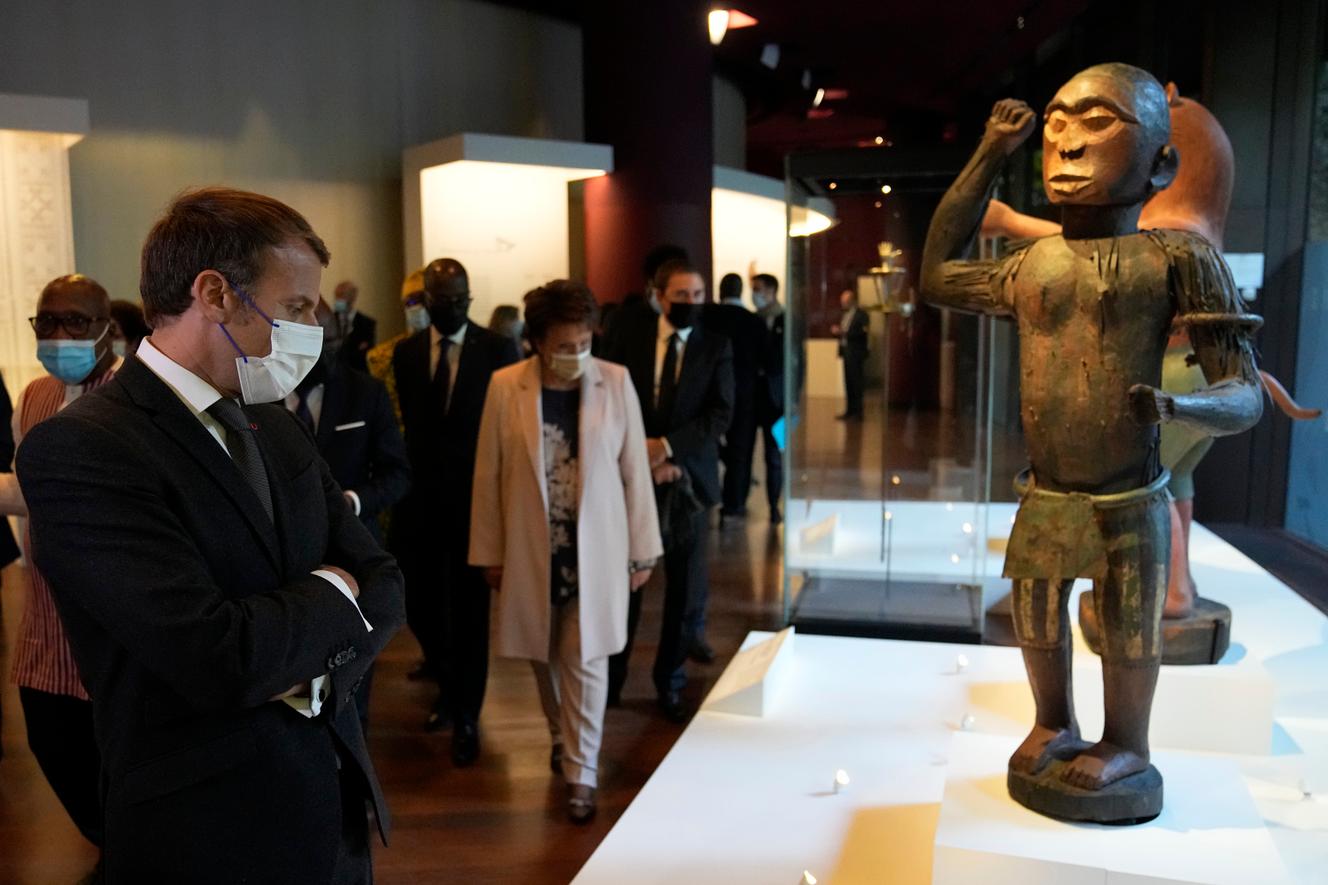 France officially returns to benign, Tuesday, November 9, 26 works of looted Abomey royal treasures on the nineteenthNS Century by colonial forces, a "Historic moment of national pride" to the authorities of Benin. French President Emmanuel Macron will receive his Benin counterpart Patrice Talon in the morning to finish the return of these 26 treasures so far preserved in the Parisian Museum of Quai Branly, which will arrive in Benin tomorrow, Wednesday.
The two countries' culture ministers, Roselyn Bachelo and Jean-Michel Abembola, will sign the deed to transfer ownership from France to Benin, allowing the business to be permanently repatriated after nearly 130 years of absence.
This solemn celebration marks the final stage of an unprecedented process that began with the promise made in 2017 by Mr. Macron to return the African heritage preserved in France. "It is a historic moment of national pride."Mr. Abimbola said a few days ago on Benin TV. "Sure, that's only 26 out of thousands, but we started something that couldn't stop anymore", he added. "We have ready the pump and we don't despair of getting other work back" In Germany, Britain and the United States in particular.
"I can die in peace"
This initiative "An important sign for building a new relationship and a new perspective between France and the African continent"Welcomed by the Elysee.
Among the works being restored are totemic statues from the ancient Abomey kingdom as well as the throne of King Bhanzin, which was looted by French colonial forces during the looting of Abome Palace in 1892.
These treasures will depart on a plane with Patrice Talon and their arrival will be celebrated on Wednesday in Cotonou, where they are waiting with affection. "I shudder at the thought of taking a closer look at these royal treasures, especially our ancestral thrones. Inconceivable.Dah Aduhanon, a prominent figure and community leader, was captured by AFP in Cotonou. From the height of 72 years, I can die in peace, as soon as I see them", he added.
Works will be submitted for two months "acclimatization" to the new climate and humidity conditions, before being exposed for a period of three months to the presidency of Benin.
"Obviously there will be a crowd because everyone will want to see them very quickly.", student Henriette Behanzen, who hopes that visits will not be reserved for the privileged, expects "Because they are treasures for all of us.".
Treasures will then go to the old Portuguese fort Aweidah and the governor's house, and the historical sites of European slavery and colonization, located on the coast, awaiting the construction of a new museum in Abomey.
90% of African heritage is outside Africa
During his speech in Ouagadougou in November 2017, Mr Macron pledged to make the temporary or permanent restoration of African heritage in France possible within five years. On the basis of a report submitted by the Senegalese and French academics Floyn Sarr and Benedict Savoy, he decided to return these 26 works that had been requested by the Benin authorities for several years.
The emergency law passed in December 2020 made these refunds possible in Benin by detracting from the principle of"inalienable" She works in public collections, because she was seriously looted.
Before being returned, 26 works were shown together one last time at the Parisian Musée Quai-Branly, which he saw 15,000 people in seven days.
According to experts, 85% to 90% of African heritage is outside the continent. Since 2019, in addition to Benin, Senegal, Côte d'Ivoire, Ethiopia, Chad, Mali and Madagascar have submitted refund applications, and some countries have already submitted several times.
Paris should soon return to Côte d'Ivoire, Djidji Ayokoye, the famous speaker of the Ebri drum, whom Abidjan has long demanded.
The return of artworks looted from Africa is one of the highlights of "new relationship" Which the French head of state intends to establish with the continent.
"Unapologetic pop culture trailblazer. Freelance troublemaker. Food guru. Alcohol fanatic. Gamer. Explorer. Thinker."