A 7.5-magnitude earthquake struck northern Peru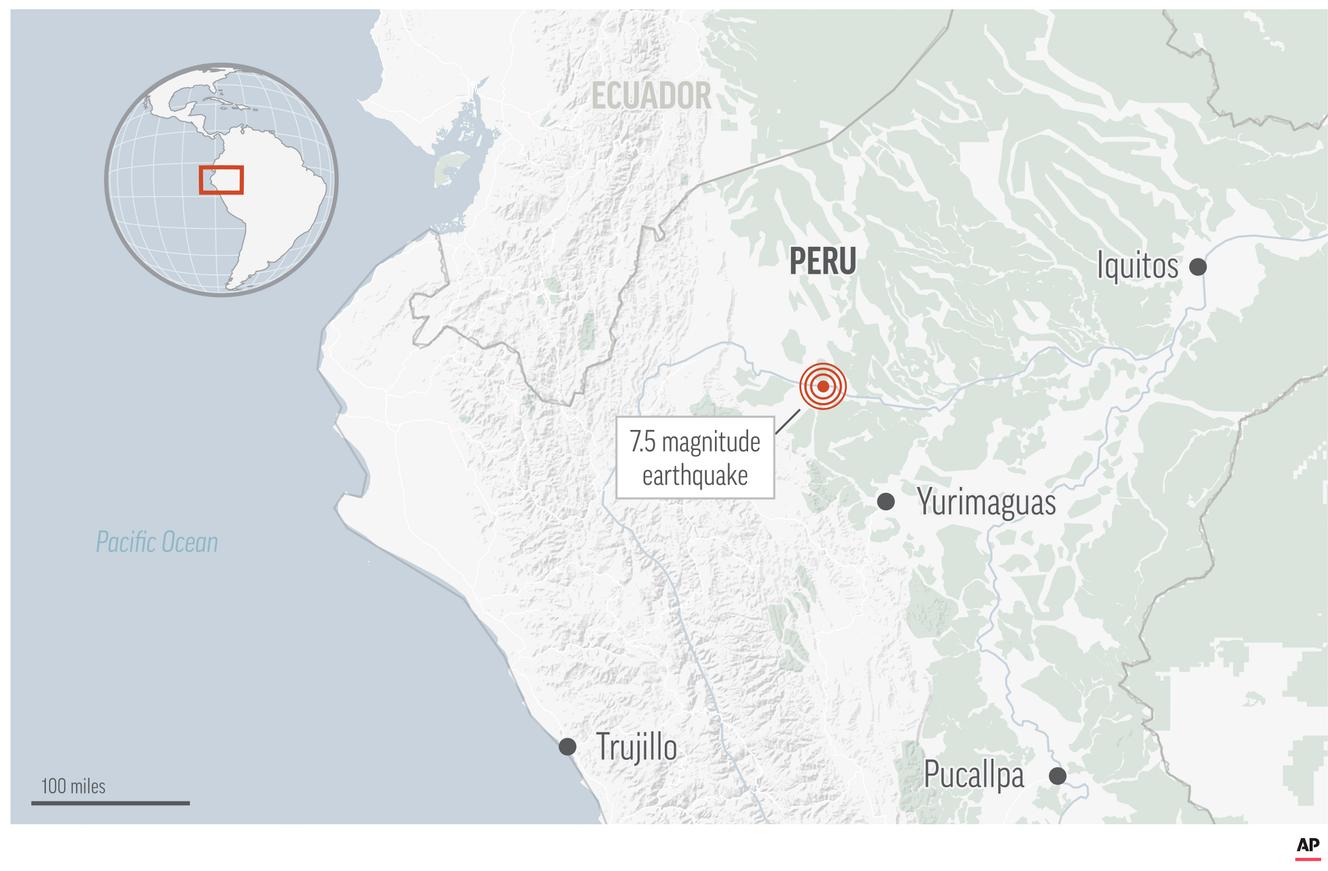 A 7.5-magnitude earthquake struck northern Peru at 5:52 a.m. (11:52 a.m. in Paris) on Sunday, November 28, United States Institute of Geological Studies (USGS). Peru's National Institute of Geophysics said the earthquake hit the forest in the north of the country as well as a large area near the central coast. The earthquakes injured ten people and caused material damage, according to preliminary information from the Peruvian authorities.
. Sismos_Peru_IGP reported a 7.5-magnitude earthquake that occurred 98 km east of Sta Maria de Neiva, Kondorkanqui – Amazo… https://t.co/mfiayrY0vF
The Peruvian Institute locates the epicenter 98 kilometers east of Santa Maria de Neiva, the capital of the Condorcanque department in the Amazonas province, 860 kilometers northeast of Lima near the border with Ecuador, at a depth of 131 kilometers, which generally reduces the damage and the number of casualties.
Ten wounded and material damage
Santa Maria de Neiva is located in a sparsely populated area where the indigenous people live, on the banks of the Neiva River. In Barranca, the church tower collapsed. No tsunami warning was issued after the quake. According to the Civil Defense, the earthquake injured ten people and displaced 75 others, while homes were destroyed in the Amazonas region. Its president, Guillermo Laso, announced that the earthquake also caused damage to infrastructure in at least two provinces of Ecuador.
Almost half of the country, in the north and in the center, was shocked, particularly in regions such as Cajamarca, Piura, Tumbes, Lambayeq, Ancách, and in the capital. In Lima, located more than a thousand kilometers south of the epicenter, residents took to the streets of some neighborhoods. Power outages have been reported in the affected areas. The earthquake was also felt in Colombia.
Peru experiences at least a hundred earthquakes every year that can be observed by the population, as it is located on the Pacific Belt of Fire, an area of ​​wild activity that stretches along the western coast of the continent. American.
"Unapologetic pop culture trailblazer. Freelance troublemaker. Food guru. Alcohol fanatic. Gamer. Explorer. Thinker."