In Haiti, those who lost everything in the earthquake despair
reportageThe chaos continued after the August 14 earthquake, which left more than 2,200 dead and 12,000 injured, according to a provisional tally. Villages were completely destroyed.
"Nothing. We have absolutely nothing. Nothing." The word comes again All mouths. The horrific earthquake measured 7.2 degrees that devastated the provinces of the South, Nieps and Grand Anse, in western Haiti, on August 14th, reduced small houses of stone, wood, and earth to ruins in this rural district of Nans Cady, in the commune of Pestel, 300 kilometers – and over six hours by road – west of Port Or Prince. The meager cassava and yam crops were crushed by landslides that killed farmers in their gardens.
"Look, look where we sleep!" Evelia Michele, 35, is not taking anything. Moving from shelter to shelter, she raises pieces of cloth with holes, trying to show how this makeshift camp of 300 families from the surrounding area lives: four pegs planted in a rectangle form an area of ​​​​2 meters2 At most, covered with a sheet, blanket, or an old, barely waterproof tarpaulin for those lucky enough. Inside, men, women and children sleep on the floor, on dry banana leaves that are supposed to insulate them from the damp. Dilapidated anchorages were erected for the elderly and the most vulnerable pregnant women.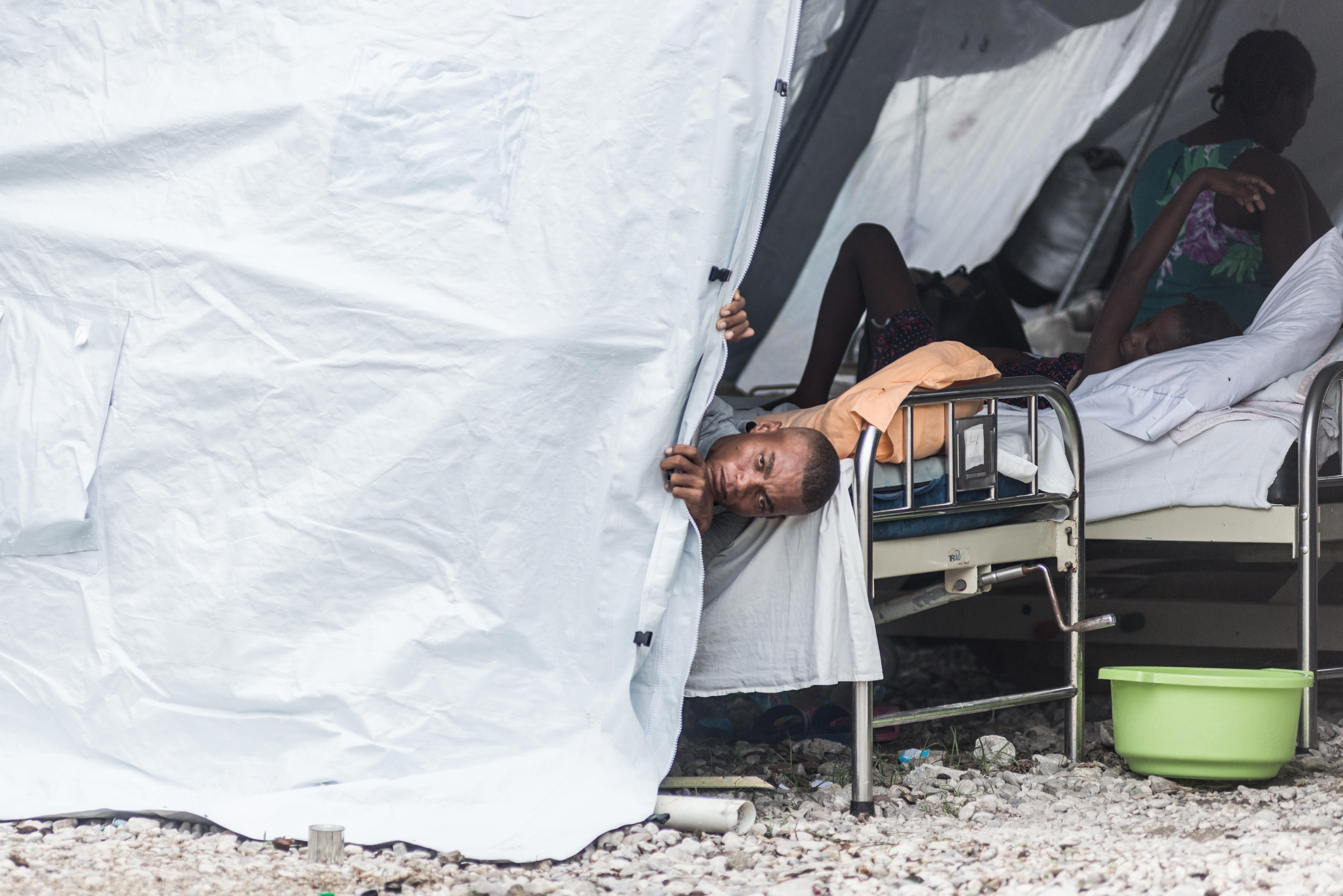 Immediately after the earthquake, they slept under the trees for three days, they received the full force of the torrential rains of Storm Grace that befell the area, an evil blow of fate, during this time of hurricanes. To be sharper than ever. "A judge from the district came to see us after these three days, Ephelia says, He handed out some blankets, said we couldn't make camp and we had to go out, and left. How does he say that? I haven't eaten anything for five days, we drink water from the well, children get sick, we already experienced Hurricane Matthew in 2016, and now we don't know what will happen to us … " Evelia runs her fingers over her eyes. She doesn't cry. I just got exhausted. "We see relief trucks passing by, but none of them stop for us!", Continue to indignant despair.
"Premature Babies"
Entire villages were erased from the map in a few minutes, on August 14 at 8:30 a.m. no house was spared in Marcellin, a small village in the Camp Berrin commune, before Nan Cady. Ten days after the earthquake, its inhabitants were still burying their dead. A few kilometers from Marseille, on the road to Jeremie, the landscape is Donetsk. Sections of the hills (mountains) collapsed. The road has been cleared, but huge boulders still block a passage for hundreds of meters. On the right, a sign proclaiming: "Panorama View," like Memories of an Other Life. Moreover, two men are pushing tons of dirt and stones with a shovel, one of which is trying to empty the sea with a small spoon.
You have 78.4% of this article left to read. The rest is for subscribers only.
"Unapologetic pop culture trailblazer. Freelance troublemaker. Food guru. Alcohol fanatic. Gamer. Explorer. Thinker."